Book Review

The Author's Workbook, by Patricia Fry
Here is a useful workbook for authors who have realized they must roll up their sleeves and get to work if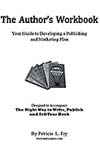 they want to sell their own books.
A well-coordinated workbook to accompany Fry's "The Right Way to Publish and Self Your Book," this resource covers project planning, evaluation, choosing a publisher, manuscript identity, book proposal, query letter, logs, selling a self-published book, book promotion plans, bookkeeping, and resources.
Patricia Fry brings the voice of tough experience to new writers, and she does better than anyone ese in balancing the idealism of a new writer with the realities of the marketplace..
Any new writer is well-advised to purchase and use both of these resources, for mistakes can be very expensive and personally disappointing.




Bruce Cook, Ph.D.
Publisher, ReserveBooks.com
On Reserve!
Thought-provoking commentary and opinion.
Book Reviews
Impartial review of your book, Send (including Press Release, short bio and your e-mail address (the latter is required) to Cook Communication, 6086 Dunes Drive, Sanford, NC 27332. ReserveBooks.com reserves the right to choose which titles to review.
Up to Date
ReserveBooks.com is equipped to help you move from Gutenberg to Cyberlit. Let us help you lean into the cutting edge of new technologies that are bringing a new democracy in communication media.