Book Review

Banners of Liberty
-Book review by Dr.Claude Shema-Rutagengwa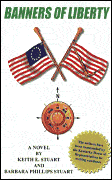 This interesting book written by

Keith E.Stuart & Barbara Phillips Stuart

tells the mysterious story of four generations of the tycoon family known as McDonald, whose roots lie in the Highlands of Scotland.

The book tells and reminds us about the Cumberland's Bloody killing field, and the accuracy of the battle on Culloden Moor on April 16th 1746.




This inspiring story also embraces a number of some important names in the history of England's heavy battles in the past, like Prince Charles Edward Stuart who is considered by many people to be the rightful heir to the British throne against King George II, who had ascended the throne upon death of his father King George I.

The conflict between King Henry VIII and the Pope and the Roman Catholic church over his divorce with his first wife Catherine of Aragon reached its peak level of escalation in 1532,then he declared himself to be the leader of the church in the whole England, in a bid to destroy the power of Catholicism in England.

The novel doesn't only talk about conflict, battle field or similar crashes, but takes us also into the romance, and the wisdom of a such bright and beautiful ladies as Della, or Rita and Trudy, and their the generosity and kindness towards slaves and indentured people who will get promoted into real human beings.

One of those generous and kind people is Kevin. Kevin's life seemed to be so hazardous though, at the beginning, but at the end became a more prosperous one. The hope that he was predicting and dreaming through the results of his daily realisation inspired him until he came up with interesting ideas of putting yesterday behind, and looking forward to a brighter tomorrow, and said:" No more nightmares,...Edgewater plantation is my future...!"
Published by Airleaf Publishing-2006

Reviewed by Dr.Claude Shema-Rutagengwa
On Reserve!
Thought-provoking commentary and opinion.
Book Reviews
Impartial review of your book, Send (including Press Release, short bio and your e-mail address (the latter is required) to Cook Communication, 6086 Dunes Drive, Sanford, NC 27332. ReserveBooks.com reserves the right to choose which titles to review.
Up to Date
ReserveBooks.com is equipped to help you move from Gutenberg to Cyberlit. Let us help you lean into the cutting edge of new technologies that are bringing a new democracy in communication media.