Book Review

Inside Delta Force, by Eric L. Haney (Delacorte Press)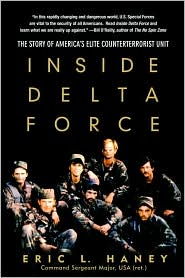 Here is the story of an important beginning – when a select group of US military leaders began to be effective in dealing with terrorist and other anti-US threats worldwide. It is predicated on the fact that dissident and criminal forces will take full advantage of any wealthy nation which, sick of failure (in the US case, Viet Nam) fails to keep its guard up. (While we all could wish a more peaceful means could prevent violence, it seems inevitable that a wealthy nation must protect itself.)
This is the story of building Delta Force, an elite group of military personnel who passed through more than rigorous challenges in order to qualify for a force to be entrusted with national defense at the highest levels.
The author details his personal experience from being selected in the second tiny group of soldiers for this unit, going from the elation of being selected to the grueling ordeal of qualification, plus amazement when the few winners saw how many of their colleagues had quit or met with rejection.
As you read his story, watching Delta Force being assembled from scratch, you will identify with the group and its purpose, and surely admire the almost impossible accomplishments the group achieves every day.
Haney spares us nothing as he shows the disastrous failure of a helicopter raid to free US hostages in Iran. He takes us "behind the lines" as we see clandestine assignments in US cities as well as undercover assignments overseas. In fact, one is left to wonder how Haney ever got permission to reveal so much about the elite group.
Reveal he does, and I heartily recommend the experience of reading this action-packed nonfiction novel.
.




Bruce Cook, Ph.D.
Publisher, ReserveBooks.com
On Reserve!
Thought-provoking commentary and opinion.
Book Reviews
Impartial review of your book, Send (including Press Release, short bio and your e-mail address (the latter is required) to Cook Communication, 6086 Dunes Drive, Sanford, NC 27332. ReserveBooks.com reserves the right to choose which titles to review.
Up to Date
ReserveBooks.com is equipped to help you move from Gutenberg to Cyberlit. Let us help you lean into the cutting edge of new technologies that are bringing a new democracy in communication media.