Book Review

The Forgotten 500: The Untold Story of the Men Who Risked All for the Greatest Rescue Mission of World War II, by Gregory A. Freeman (Tantor)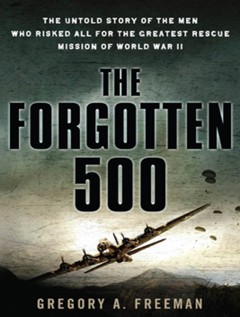 Wow, this is another example of why these men are known as the "greatest generation". This book was non-stop action that script writers could only hope to come up with.
This is the story of downed pilots in Yugoslavia and their life with the Yugoslav peasants as they helped to hide these airmen from the Germans. Simultaneously, the story of the internal struggle for power in Yugoslavia between Tito and Mihailovich was played out along with the Allies' analysis of which of these two was their greatest ally. Even though Mihailovich was the one who was responsible for assisting in the rescue of these men, history shows that the Allies threw their support to the communist Tito—helping communism gain a foothold in Eastern Europe that would last more than 40 years.

I was surprised to learn of the way the British (intentionally or not) sabotaged the American efforts to rescue their men. This information was jaw-dropping. In the end, Mihailovich was abandoned and not acknowledged by America for nearly 60 years.

On Veteran's Day in 1979, Ronald Reagan wrote of Mihailovich, "I wish it could be said that this great hero was the last victim of confused and senseless policies of western governments in dealing with Communism."

"Thus, the fate of General Mihailovich is not simply of historic significance -- it teaches us something today, as well. No western nation, including the United States, can hope to win its own battle for freedom and survival by sacrificing brave comrades to the politics of international expediency."

He further stated, ". . .it has been demonstrated beyond doubt that both freedom and honor suffer when firm commitments become sacrificed to false hopes of appeasing aggressors by abandoning friends."




Michael Kainrath
The Virginian-Pilot
On Reserve!
Thought-provoking commentary and opinion.
Book Reviews
Impartial review of your book, Send (including Press Release, short bio and your e-mail address (the latter is required) to Cook Communication, 6086 Dunes Drive, Sanford, NC 27332. ReserveBooks.com reserves the right to choose which titles to review.
Up to Date
ReserveBooks.com is equipped to help you move from Gutenberg to Cyberlit. Let us help you lean into the cutting edge of new technologies that are bringing a new democracy in communication media.