Book Review

Our Oneness in Christ, by Ian B. Johnson & Lauston Stephens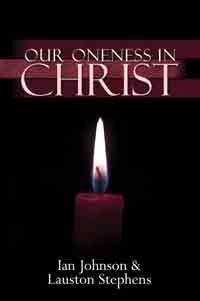 Ostensibly a book of theology and Bible exegesis, this volume breaks new ground in the increasingly important struggle for unity among Christian believers. It is a fresh new look at church unity.

This stance is remarkable because it rests on Biblical analysis (exegesis) to prove a point usually made by Christian believers who are turned off by literal analysis of Biblical text.
Resting the case on this source has made the movement for church unity (ecumenism) more palatable to believers on both sides of the spectrum, although it seems impossible that both sides would ever enter into a common assembly.
This book reminds me so much of the ideas about world peace, based upon shared power, not threats, as promulgated by Johann Gultang and his scholars in Norway and elsewhere. Here we go well beyond ecumenism, which has had its own problems all along the way.
Here Christian unity is presented, not as a political or nice-to-have goal, but instead as an essential for Christians everywhere.
Author Ian Johnson, with an eclectic background in biochemistry, history, and a Juris Doctor degree, is now writing two successor volumes to this one. I wish him well in his efforts. This could be the most significant movement in the Christian church since the reformation.




Bruce Cook, Ph.D.
Publisher, ReserveBooks.com
Author website: click here
On Reserve!
Thought-provoking commentary and opinion.
Book Reviews
Impartial review of your book, Send (including Press Release, short bio and your e-mail address (the latter is required) to Cook Communication, 6086 Dunes Drive, Sanford, NC 27332. ReserveBooks.com reserves the right to choose which titles to review.
Up to Date
ReserveBooks.com is equipped to help you move from Gutenberg to Cyberlit. Let us help you lean into the cutting edge of new technologies that are bringing a new democracy in communication media.