Book Review

Tough Love for Schools, by Frederick M. Hess (AEI Press, 2006)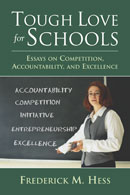 In Tough Love for Schools, Frederick Hess shows admirable courage by tackling the problems of American education with an independent voice.
As Hess explains, educational administrators (and unions) are on constant vigil to prevent Hess's kind of thinking from ever having influence on the existing system. For example, how often do you hear of a school district giving fair consideration to the idea of school vouchers (to name a solution the administrators have fought for years)?
Further, once an active teacher, Hess earned top degrees in government at Harvard University and has devoted his career to the American Enterprise Institute for Public Policy Research. In this position and in his professional life outside AEI, he has collected these essays to give depth to his basic arguments, and provide valuable reasoning and facts to back up his premises.
Hess has had the courage to confront the educational establishment. Now we can wait and see how well the educators will listen.
Bruce Cook, Ph.D.

Publisher, Reservebooks.com
On Reserve!
Thought-provoking commentary and opinion.
Book Reviews
Impartial review of your book, Send (including Press Release, short bio and your e-mail address (the latter is required) to Cook Communication, 6086 Dunes Drive, Sanford, NC 27332. ReserveBooks.com reserves the right to choose which titles to review.
Up to Date
ReserveBooks.com is equipped to help you move from Gutenberg to Cyberlit. Let us help you lean into the cutting edge of new technologies that are bringing a new democracy in communication media.