Book Review

To Walk in Beauty, by Allen H. Benton (YBK Publishers)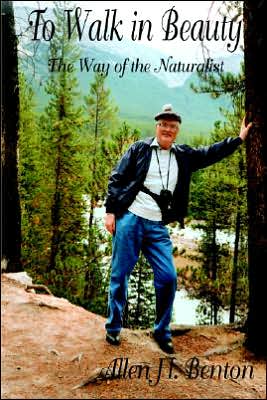 Armchair travelers and anyone who appreciates the natural world will enjoy this delightful little book.
While the book will never stun readers with its organization, reference systems, or dramatic development, it will capture one's attention in the same way an experienced tour guide will engage any audience, even if the guide wears a funny hat.
Once the reader wades through the poetic references at the start of a chapter, it's as though this tour guide can take you anywhere, from inside a microscope to the sweep of the months, replete with every observable element of nature.
It's a historical tour, too, as the chapter "Spring" recounts the foods a family took from nature during depression years and thrills us with forgotten and delicate tastes we might like to try today.
Occasionally we sit with Benton in his chair and watch the animals, insects, and plant life his back yard. This guide makes this simple setting more exciting than a sweep through the Grand Canyon.
Benton explains that he writes a column and articles for newspaper and magazines, and does so because he loves to help people understand and care about nature. Then he marks a serious challenge by reminding us that our real challenge is to stop the explosive growth of the human race, for it is our growing population that threatens us most.
In closing, he quotes Dr. Seuss's "The Lorax," who says… "Unless someone cares just a whole awful lot, Nothing is going to get better; it's not."
"To Walk in Beauty" is a relaxing, enjoyable read.




Bruce Cook, Ph.D.
Publisher, ReserveBooks.com
On Reserve!
Thought-provoking commentary and opinion.
Book Reviews
Impartial review of your book, Send (including Press Release, short bio and your e-mail address (the latter is required) to Cook Communication, 6086 Dunes Drive, Sanford, NC 27332. ReserveBooks.com reserves the right to choose which titles to review.
Up to Date
ReserveBooks.com is equipped to help you move from Gutenberg to Cyberlit. Let us help you lean into the cutting edge of new technologies that are bringing a new democracy in communication media.