The arrival of the Internet, television and telephone plays a key role in easing our daily schedules. Unfortunately, the time for smiling or laughing has never been an easy pearl to find. Refreshment of mind seems to be as far away as the moon unless we do it from the school or any other sort of formal or informal training. As human beings, we need some important pillars at our side so that we shall be real human beings. Coping with stress, as a single way to stay pure and intact, is the only way that helps. Unfortunately this is not easy for all of us and the appropriate psychotherapy as an ultimate way to get out from the stressful state is extremely costly. Therefore, through our peace of mind, reflection and laughter, we are able to overcome all odds that trigger our hidden accumulated stress and fatigue to cause us troubles and impede our well-being.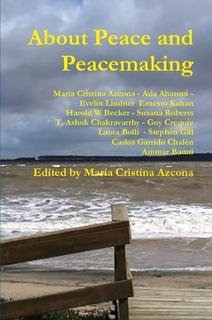 ABOUT PEACE AND PEACEMAKING" by MARIA CRISTINA AZCONA and OTHERS

The existence of humnanity is in peril. Its worst enemy is not only violence, war or terrorism, but also a profound lack of love, sensibility and empathy. A complete change for all of us is possible, but only will arrive from an innovative thought and a serious research on the possible ways out. Let us find the cure to this severe illness that is causing the decadence and perhaps death of our blue planet Earth. (featuring articles by Ada Aharoni, Ernesto Kahan , Susana Roberts, Evelin Lindner, Harold Becker , Tholana Ashok Chakravarthy, Guy Crequie, Stephen Gill , Ammar Banni and Latinamerican authors)

A gothic mystery novel and story of passion and romance set against the backdrop of a timeless Mediterranean landscape, The Wanderess tells of the notorious adventurer Saul and his passion for the beautiful Saskia, a mysterious young orphan girl whom he meets and vows to protect as his child. - More -

His Kingdom Come: A Novel, by Margaret Montreuil (Bloomington, IN: Westbow Press, 2011)
In her historical novel,
His Kingdom Come
, Margaret Montreuil has accomplished a milestone in documenting the Life of Christ. Her novel is unique in its historical and archaeological accuracy, its clear chronology of events, and its variety of perspectives on events during Christ's ministry and the years beyond his crucifixion.
Print: $32.99
A heart-rending and poignant love story filled with physical and mental conflict brought about when a young, naive African girl brought up to observe strict tribal traditions falls in love with her wealthy European employer, who is also her mentor and protector. Throughout the book, Khira struggles to balance the demands of western society with her grandfather's fierce expectations that she adhere to Luo customs. Despite the fact that she grows into an extremely mature and tolerant wife, caring mother, and astute business woman, in the shocking ending, her loyalty to an ageless African ritual causes her undoing. The book is skillfully-written, with sexual tension, tender and passionate love scenes, suspense and surprises, and the author demonstrates a substantial knowledge of Kenyan history, Luo tribal customs and the international business world. The only downside for me was the fact that it sometimes it is a little too wordy and doesn't move forward fast enough.
Trish Jackson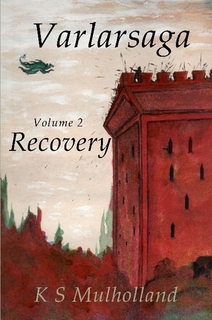 Varlarsaga, Vol 2 - Recovery, by K.S. Mulholland (book)
Print: $29.66
By K.S. MULHOLLAND. Voices haunt the mind of the youthful Prince Mylor from his earliest memories: Voices that plead, beckon, seduce... Voices that offer him a new home. After escaping from a cell deep beneath Penda fortress in the mountain locked realm of Ravenmoor and sailing with strange Elvish folk to their far-off island home, Corin returns with them to his own forsaken country, there to confront the evil threatening to overthrow the kingdom. Yet the mysterious Voices lure him once again to sail away with the elves into the far North where lies a vast, unexplored land and the pursuit of answers to the riddle of the Voices...

Varlarsaga, Vol 1 - Escape, by K.S. Mulholland (book)
Print: $29.66
By K.S. MULHOLLAND. Varlar, so named by the first to sail her seas and walk her shores. Varlar, world of the elves: a mystery and a wonder. The earth, our own fair earth, fraught with many unknown, unseen dangers; terrible and beautiful as the west-rising sun. Who then could say as to what lay in the darkest depths of her oceans, who guess that doom? And yet, upon a later time, it was foretold, 'The Nardred awaits Its moment to arise from the deeps; there to bring forth chaos, and the downfall of Varlar...'

Print: $25.96
BY K.B. HARTWELL. Born in the 1800's, judged by the color of his skin and not by the honor of his heart, his spiritless soul was not welcomed by white society. Forever branded, this man died for his crimes of innocence. . . . No one would grieve the deaths of Jeb and Edgar. Black or white. Those two "white trash" had raped Violet Green. Jasper had to stop his friends-even if it would result in his having to testify against them. And possibly losing his own life and those he loved.